When you check out your newsfeed and see U.S. Ambassador to the UN Nikki Haley telling it like it is,
do you feel like singing??
Come on, admit it, you do!
Well we do too, and here's our song:
Nikki Haley Rocks the United Nations!
lyrics, music, rhythm guitar: Dovid Kerner
electric bass, rhythm and lead guitars, backing vocal: Zalman Schreiber
mixing and production: Steve Kerner
Click here for the Youtube and sing along!
Click here for an article about the official Nikki Haley song!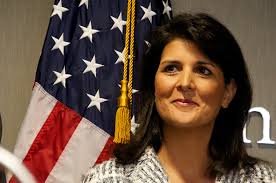 www.Kernersongs.com